>

>

Beckman Coulter CytoFLEX Cytometer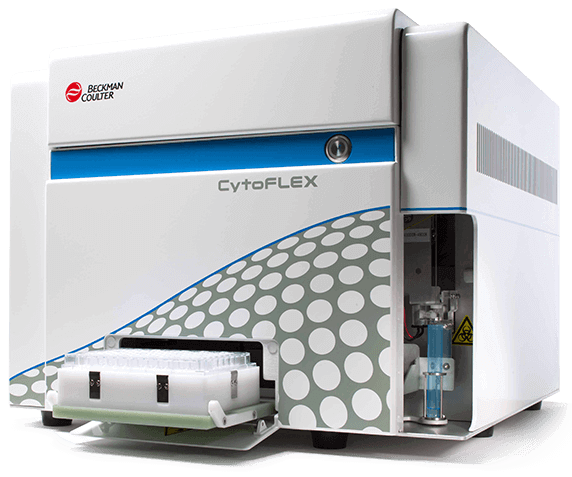 Beckman Coulter CytoFLEX Cytometer is a compact bench-top flow cytometer for research use. The CytoFLEX flow cytometer can acquire up to 8 parameters on a single sample excited by the 488nm and 638nm lasers, up to 6 fluorescence colors, plus forward and side scatter data channels. It can be upgraded by adding a 405nm laser and up to 13 fluorescence colors in the future.
CytoFLEX Cytometer uses the sample peristaltic pump to take sample and calibrates sample volume delivery for absolute cell counts without using beads. It can process samples at flow rate between 10 uL and 240 uL per minute providing high sensitivity and adjustable flow rates.
The CytExpert software provides 7 decade of data display and the event collection rate can be up to 30,000 events/second.
Sample Input Format: 96 well-plate.
CytoFLEX Laser Specifications:
| | |
| --- | --- |
| Lasers | Power output |
| Blue laser, 488nm | 50 mW |
| Red laser, 638nm | 50 mW |
| Violet laser, 405nm | 80 mW |
CytoFLEX Configuration:
Excitation
Fluorescence Channels
Fluorochromes

488 nm

525/40 BP

FITC, ALexa Fluor 488, CFSE, Fluo-3

585/42 BP

PE, PI

690/50 BP

PC5, PC5.5, PerCP, PerCP-Cy5.5, PI

780/60 BP

PC7

638 nm

660/20 BP

APC, Alexa Fluor 647, eFluor 660

780/60 BP

APC-Alexa Fluor 750, APC-Cy7, APc-H7, APC-eFluor 780

405 nm

450/45 BP

Pacific Blue, BV421, eF450, VioBlue, DAPI

525/40 BP

Krome Orange, Pacific Orange, BV510,VioGreen
Location:  EOHSI Building, Room 347
Available software for analyzing data: CytExpert software allows visualization of data acquisition and data analysis of the results. CytExpert software can be installed on your desktop computer to analyze your data on your own. The data are created as FCS 3.0 format and can be analyzed using Kaluza Analysis Software or other third party software.