>

>

Leica TCS SP8 Confocal...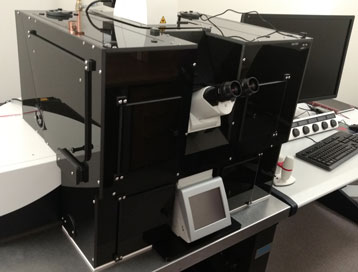 This laser based confocal system permits measurements of fluorescently labeled tissue sections, individual cells, or particles adhered to matrices over a wide selection of visible wavelengths. The instrument is equipped with 4 air cooled lasers allowing for excitation wavelengths of 405, 488, 552 and 638 nm.
Analysis of immunofluorescence as well as functional and biochemical kinetic studies can be performed on viable cell samples. The instrument is equipped with a Quad Black live cell chamber allowing for temperature control and allowing for long term observation of viable cell cultures. Intracellular distribution of fluorescence can also be quantified by way of 3D imaging. The instrument has extremely high sensitivity and can differentiate between closely emitting chromophores.
In addition, the Leica TCS SP8 features 3 HyDs (hybrid detectors combining the characteristics of a classic PMT with a highly sensitive avalanche photodiode) and 1 PMT which can measure real time response of time-critical sequences due to its fast scan speed. The HyD detectors allow for the use of very low laser power to preserve sensitive samples and allow for repeated scans with minimal fluorescence bleaching. The instrument has a maximum image resolution of 64 Mpixels. Each laser can fire independently and detectors can be reprogrammed multiple times allowing for multi-color analyses.
Leica TCS SP8 Specifications
Microscope
Leica DMi8 (inverted)
Live cell chamber (Quad Black)
Motorized scanning stage
4 air cooled lasers
405 nm direct modulation laser
488 nm solid state laser
552 nm solid state laser
638 nm solid state laser
Objectives
10x/0.40
20x/0.70
40x/1.25-0.75 oil
63x/1.20 water
63x/1.40 oil
63x/1.30 glycerin
Download the information on the cell culture dishes/or chambers for Leica SP8 confocal microscopy here.
Download the Leica software (LAS AF Lite-version 2.3.0) here.
A newer 64 bit version of LAS AF Lite (3.3.1) is available upon request.

Location: Ernest Mario School of Pharmacy, William Levine Hall, Room 002